City of Calgary W.O. Mitchell Book Prize
The City of Calgary W.O. Mitchell Book Prize is awarded in honour of acclaimed Calgary writer W.O. Mitchell and recognizes literary achievement by Calgary authors. Established in 1996, the W.O. Mitchell Book Prize is coordinated through a partnership between The City of Calgary and the Writers' Guild of Alberta, which administers the award as part of the Alberta Literary Competitions.
Entries are judged by an independent jury recruited by the Writers' Guild of Alberta. Shortlisted authors have an opportunity to deliver a reading. The winning author receives a $5,000 cash prize and receives the award at the Calgary Awards Presentation in June.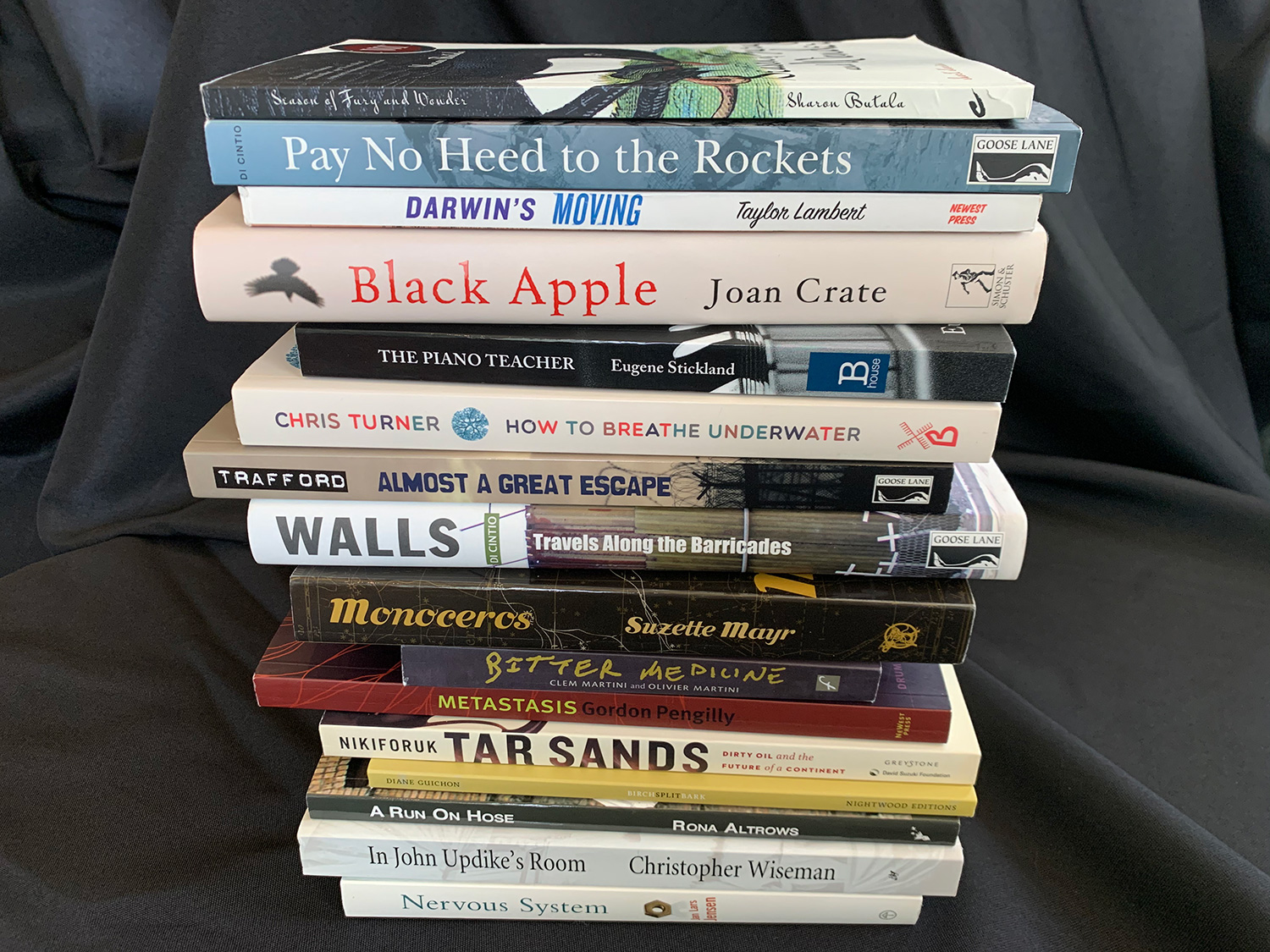 The City of Calgary and the Writers' Guild of Alberta are pleased to announce the finalists for The City of Calgary W.O. Mitchell Book Prize, one of 13 Calgary Awards:
Making Love with the Land by Joshua Whitehead
People Change by Vivek Shraya
The Sleeping Car Porter by Suzette Mayr
Making Love with The Land
Joshua Whitehead
In the last few years, following the publication of his debut novel Jonny Appleseed, Joshua Whitehead has emerged as one of the most exciting and important new voices on Turtle Island. Now, in this first non-fiction work, Whitehead brilliantly explores Indigeneity, queerness, and the relationships between body, language and land through a variety of genres (essay, memoir, notes, confession).
Making Love with the Land is a startling, heartwrenching look at what it means to live as a queer Indigenous person "in the rupture" between identities. In sharp, surprising, unique pieces—a number of which have already won awards—Whitehead illuminates this particular moment, in which both Indigenous and non-Indigenous peoples are navigating new (and old) ideas about "the land." He asks: What is our relationship and responsibility towards it? And how has the land shaped our ideas, our histories, our very bodies?
Here is an intellectually thrilling, emotionally captivating love song—a powerful revelation about the library of stories land and body hold together, waiting to be unearthed and summoned into word.
People Change
Vivek Shraya
The author of I'm Afraid of Men lets readers in on the secrets to a life of reinvention.
Vivek Shraya knows this to be true: people change. We change our haircuts and our outfits and our minds. We change names, titles, labels. We attempt to blend in or to stand out. We outgrow relationships, we abandon dreams for new ones, we start fresh. We seize control of our stories. We make resolutions.
In fact, nobody knows this better than Vivek, who's made a career of embracing many roles: artist, performer, musician, writer, model, teacher. In People Change, she reflects on the origins of this impulse, tracing it to childhood influences from Hinduism to Madonna. What emerges is a meditation on change itself: why we fear it, why we're drawn to it, what motivates us to change, and what traps us in place.
At a time when we're especially contemplating who we want to be, this slim and stylish handbook is an essential companion—a guide to celebrating our many selves and the inspiration to discover who we'll become next.
The Sleeping Car Porter
Suzette Mayr
Suzette Mayr takes readers on a deliriously visceral journey into the life of R.T. Baxter, a sleeping car porter, in 1929. When a mudslide strands a train, Baxter, a queer Black sleeping car porter, must contend with the perils of white passengers, ghosts, and his secret love affair.
The Sleeping Car Porter brings to life an important part of Black history in North America, from the perspective of a queer man living in a culture that renders him invisible in two ways. Affecting, imaginative, and visceral enough that you'll feel the rocking of the train, The Sleeping Car Porter is a stunning accomplishment.
Baxter's name isn't George. But it's 1929, and Baxter is lucky enough, as a Black man, to have a job as a sleeping car porter on a train that crisscrosses the country. So when the passengers call him George, he has to just smile and nod and act invisible. What he really wants is to go to dentistry school, but he'll have to save up a lot of nickel and dime tips to get there, so he puts up with "George."
On this particular trip out west, the passengers are more unruly than usual, especially when the train is stalled for two extra days; their secrets start to leak out and blur with the sleep-deprivation hallucinations Baxter is having. When he finds a naughty postcard of two queer men, Baxter's memories and longings are reawakened; keeping it puts his job in peril, but he can't part with the postcard or his thoughts of Edwin Drew, Porter Instructor.
Eligible books must have been published anywhere in the world between January 1 and December 31, 2022.
The author must have lived (permanent address) in Calgary for a minimum of two years, as of December 31, 2022.
The following types of writing are eligible: fiction, poetry, non-fiction, children's literature or drama.
Self-published books with an ISBN are eligible.
The following types or writing are not eligible: multi-author anthologies, cookbooks, guidebooks, textbooks, technical manuals, bibliographies and works of a purely academic or scholarly nature. Books of fewer than 48 pages (except children's literature), books that are not written in English or French, multi-authored books (if any one of the authors is not a Calgarian), and reprints or new editions of previously published books are also not eligible.
If, in the opinion of the jury, no work in this competition merits an award, no award will be given. In all cases the jury's decision is final.
Submissions for The City of Calgary W.O. Mitchell Book Prize are accepted in accordance with the Alberta Literary Competitions timelines, which run October through December of the award year.
Entry forms must be submitted online at Writersguild.ca no later than December 31, 2022. Printed forms may be requested if entrant is unable to access the online form.
A $30 fee per title must accompany submissions. Credit card payment is available through the online form, or cheques payable to the Writers' Guild of Alberta are accepted.
Five copies of each book entered must be mailed to The Writers' Guild of Alberta, postmarked no later than December 31, 2022.
Entries may be submitted by authors, publishers, or any interested parties.
Ineligible material will not be returned.
Send books and cheques (if applicable) to:

The Writers' Guild of Alberta
Percy Page Centre, 11759 Groat Road NW
Edmonton, AB T5M 3K6
For more information or to submit a publication, contact the Writers' Guild of Alberta, call 1‑800‑665‑5354 or visit www.writersguild.ca.