Do I need a permit?
Yes, you will need permits to build a new secondary suite
Do I need an Electrical Permit?
You need a separate electrical permit for all electrical installations and renovations.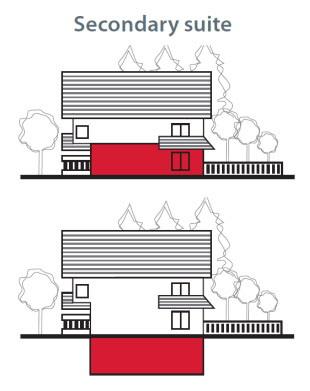 Fees
| ​Suite type | ​Permit Fee | ​Safety Codes Council Fee (4%) | ​Total |
| --- | --- | --- | --- |
| | | | |
How long will it take to get a permit?
To avoid delays, make sure your application includes all the required documents, plans and information listed on the checklist:
| Permit | Timeline |
| --- | --- |
| Planning Approval (Development Permit) | |
| Building Safety Approval (Building Permit) | |
When does my permit expire?
You will receive a permit expiry reminder in the mail. If you need more time, you can extend your permit. Review the extend or reinstate your permit section.
| Permit Type | Expiry (from date of issuance) |
| --- | --- |
| | |
| | |
| | |
Use the information below to prepare your application. Follow the rules in the location, design and construction sections to help make sure your application meets the City's requirements.
Construction (Building Code information)
The Alberta Building Code requires a minimum floor to ceiling height of 1.95 m for basement suites.
Ceiling heights can be reduced to 1.85 m where ductwork and beams make drop ceilings necessary.
Doors within the suite may be reduced to 1.89 m where required. 
Casement windows​
Casement windows must open a full 90 degrees when a window is required.​

The main residence and suite must have at least one exit that leads directly outside. This may be a door that leads to an exterior stair or a door to a common set of interior stairs that is separated from both the main residence and suite.
A stairway used in an exit requires a minimum width of 860 mm and must have at least one handrail.
Handrails should be mounted between 800 mm and 965 mm above the stair. The height is measured vertically from the front edge of the stair tread.
At least one light fixture that can be switched both on and off at the top and bottom of the stairs is required.
A landing must be provided at the top and bottom of all stairs. The landing must be at least 860 mm long and at least as wide as the stairs.
Doors serving the exit are required to be a minimum of 810 mm wide and 1.89 m high. Utility rooms, laundry rooms, furnace rooms and all other doors leading to the exit must also be at least 810 mm wide. 
Each bedroom must have at least one window that can be fully opened and used to escape during an emergency.
The window must have an unobstructed opening of 0.35 m2 in area and a minimum height and width of 380 mm. See the acceptable window style illustration below for examples and additional requirements.
When a window well is required, a clearance of 760 mm must be provided in front of the window. If a casement-type window is used, it must swing open a full 90 degrees. See the window well illustration below for more details.
Security bars serving a bedroom window must be removable from the inside without the use of tools, keys or special knowledge. A large majority of security bars do not meet the requirements and are not accepted. 
There are additional requirements to consider when the only exit for a suite is served by an exterior staircase.
When an unenclosed exterior exit stair or ramp provides the only exit from the secondary suite and could be exposed to fire from windows in the primary dwelling, those windows that are less than 3 m horizontally and less than 10 m below or less than 5 m above the exit stair need to be protected. This may be achieved by installing glass block or wired glass in fixed steel frames. It is important to know that only fixed, non-operable windows can be protected in this way. Bedroom windows must be operable.
Alternately, the construction of a roof over the entirety of the exterior exit stair may be provided. The roof must be constructed of solid construction material such as wood, metal or concrete. Option B shows an exterior stairwell with a roof providing protection from the window above it.​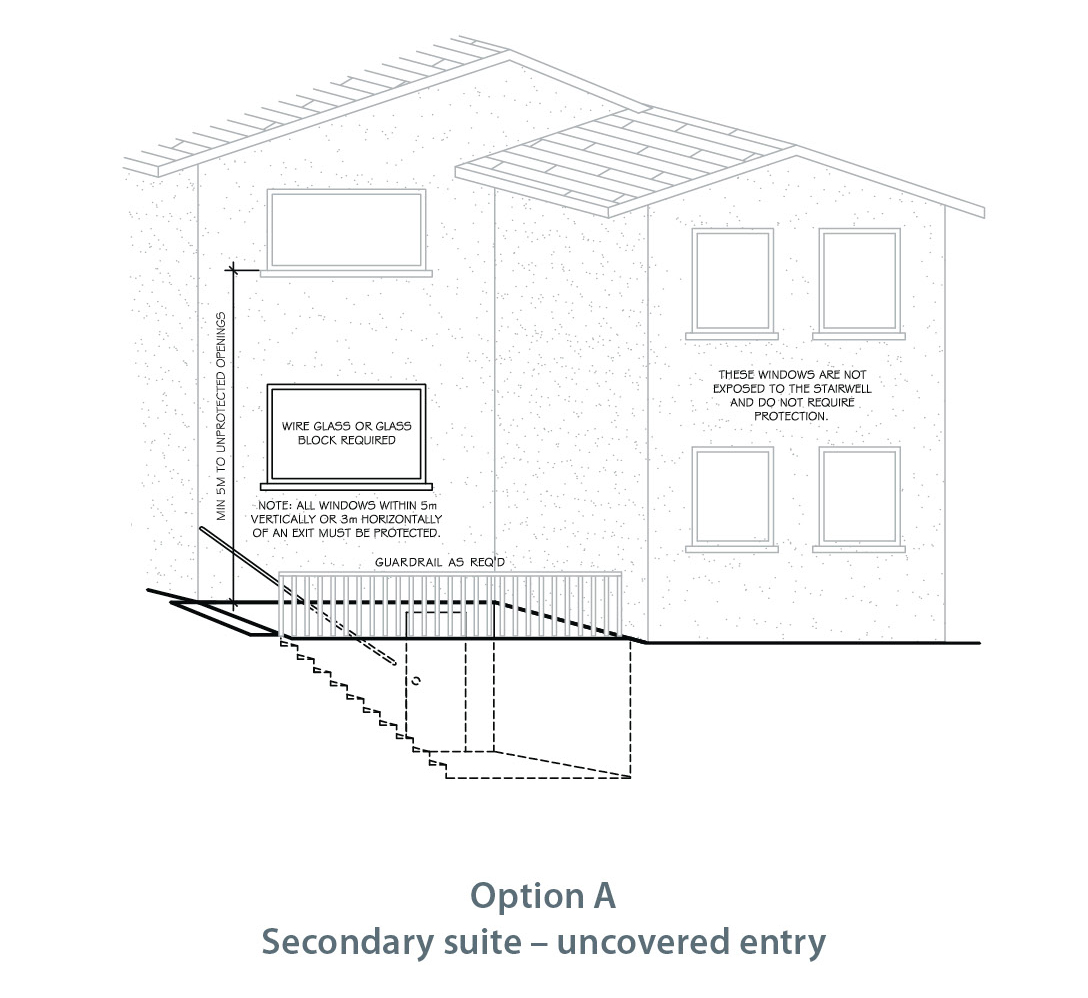 ​
Option A: uncovered entry​

​​
The Alberta Building Code requires all foundation footings in Calgary to have at least 1.2 m of ground cover for protection.
New exterior exit stairs must include a shallow foundation design by a registered professional engineer, since stairwell excavation impacts the required frost cover.
Retaining walls required alongside the new staircase opening often retain greater than 1 m of soil. In these cases the retaining wall may be required to be included in the engineered design. 
​
Secondary suites must have:
A supply of hot water and at least one kitchen sink, bathroom sink, toilet and a bathtub or shower.
A back-flow prevention device on the branch drain of the sanitary sewer line. 
A common electrical panel can serve both suites, provided there are no shared branch circuits between the suites. It is recommended the electrical panel be located in a common area, or that each tenant has access to the electrical panel. 
Use the secondary suite electrical load calculation sheet to ensure your current electrical service is adequate. Before an electrical permit rough-in inspection occurs, the form should be emailed to us. If the main electrical service must be increased from 60 amps, 100 amps, or 200 - amp service, please have your Contractor contact ENMAX.
Installing a furnace or gas appliance in secondary suites
An independent heating and ventilation system that includes independent ductwork is required for secondary suites.
Several heating systems can be used:
A second forced air furnace may be installed for the suite.
Electric baseboard heaters or hydronic radiant heating may be installed with an independent ventilation system, like a heat recovery ventilator.
If a single boiler is being used for both units, separate zone controls are required for each unit. Heating equipment must include easy access to compartments for inspection, maintenance and cleaning.
An independent heating and ventilation system that includes independent ductwork is required for secondary suites.
Several heating systems can be used:
A second forced air furnace may be installed for the suite.
Electric baseboard heaters or hydronic radiant heating may be installed with an independent ventilation system, like a heat recovery ventilator.
If a single boiler is being used for both units, separate zone controls are required for each unit. Heating equipment must include easy access to compartments for inspection, maintenance and cleaning.
On a property located inside the airport vicinity protection area (AVPA), the suite must be located in the basement of an existing single family development.
Chat with us, or contact the Planning Services Centre at 403-268-5311 for more information about secondary suites in the AVPA.
After you submit your application online, you will get a confirmation email with a Job Access Code (JAC).
To track your application and check its status, enter your Job Access Code in Vista.
If you need help or have questions, contact our Planning Services Centre. 
Visit Building inspections for information on how to book an inspection, cancel or reschedule, permit expiry and the applicable requirements for each inspection type.
Building permit inspections you will need
Two inspections are required.
Framing (rough-in) inspection requirements:
Install and complete any structural changes.
Install and complete all the wall and ceiling framing.
Install proposed windows and exterior doors.
Install and complete any HVAC changes.
Rough in, install and complete all plumbing and electrical components that are required under associated permits.
Have requested documentation on site.
Do not install insulation, vapour barrier or drywall over any work that requires inspection prior to concealing.
Final inspection requirement:
The construction should be completed and the suite should be ready for occupancy.
Trade permit inspections you may need, if applicable
During an electrical inspection, The City's safety codes officer (SCO) must have access to all areas where electrical work has been completed.
Before booking your inspection, please ensure that:
There is no exposed live wiring.
All electrical devices that are required as part of the minimum life safety requirements are installed and operational.
Hardwired Smoke/CO detectors are installed and interconnected.
For more information, review the Homeowner electrical wiring guide.
What you need to complete before you call for each plumbing inspection:
Rough-in inspection
Install and complete all plumbing drainage and venting.
Install and connect water lines to the rest of the water distribution system.
Properly support all drains, vents, and water lines.
Install the bathtub/shower valve.
Final inspection
Install and ensure all fixtures and equipment are ready for use.
Ensure the bathtub and shower water temperature does not exceed 49 degrees Celsius.
Seal all piping designed for future fixtures with an approved plug or cap.
Provide a shut off valve for all toilets.
Following an inspection, The City's safety codes officer (SCO) may identify corrective action to comply with the Current Building Code. In place of a re-inspection, the SCO may provide an option to submit a verification of compliance (VOC).
Book an inspection
Inspections occur Monday to Friday from 8 a.m. to 4 p.m. The City continues to do our best to accommodate booking requests, however some dates may be unavailable due to inspection capacity. Inspections can continue to be booked up to 10 business days in advance.

You will receive a confirmation e-mail on the morning of your inspection that states your inspection window (8 a.m. to noon or noon to 4 p.m.). If you have not received an email by 8:30 a.m. on inspection day, please call 311.
Homeowners
Call 311 to book an inspection over the phone.
Contractors
If you have a Vista account:
If you do not have a Vista account:
Book online through 311 online

Call 311 to book over the phone
What is the secondary suite registry?
The secondary suite registry is an online, searchable list identifying legal and safe secondary suites in Calgary. These suites have been registered and inspected to meet Alberta's safety code requirements. View the suite registry bylaw and go to secondarysuites.calgary.ca to view the registry.
What is the goal of the registry?
The registry aims to build awareness with Calgarians about the importance of public safety, and the safety features of a legal secondary suite. Suites that have been inspected by The City and meet the requirements under Alberta's safety codes provide the necessary measures to help protect lives.
What are the advantages of the registry and sticker for owners?
Registered secondary suites are listed on The City's website and receive a numbered sticker that can be posted at the main entrance of the suite. Owners can use the registry and sticker as a means to promote their suite to current and future residents.
Is there a cost to be on the registry?
Not currently, however, in January 2022, we will reinstate fees for the suite registry. The registry program is intended to promote the importance of safe secondary suites for Calgarians.
How do I get a secondary suite sticker for my suite?
Please note it will take two to three weeks after the final inspection to receive your sticker in the mail.
Where do I place the sticker on my property?
We recommend placing the stickers on the entry point of the suite. This informs current and future residents that suite is part of The City's registry program.
If the property is sold, does the registry transfer to the new owner?
Yes. The registry is connected to the address containing the legal and safe secondary suite.
How long is the sticker valid for?
There is no expiry date.
Can I make modifications to my secondary suite after the building permit is approved?
Any changes to your secondary suite could require additional permits and inspections. To ensure modifications meet the requirements of Alberta's safety codes and do not alter the safety features of your suite, contact The City's Planning Services Centre at 403-268-5311 for assistance.
What penalties might I face for owning an unsafe suite?
Safety is always top priority for The City. Our inspectors work collaboratively with secondary suite owners, and we determine appropriate timelines to complete work. However, if owners of illegal suites do not comply with minimum safety standards, we may take legal action.
Can I be removed from the registry?
The City investigates all complaints, should your secondary suite be found to no longer comply with Alberta's safety codes, your suite will be removed from the registry.​
The City of Calgary requires the assignment of a separate address for secondary suites to supplement the basic address of the main dwelling. The identifier for the secondary suite may be alphabetical or numeric. Suite numbers are shown at the start of the address for the following purposes:
Emergency response and wayfinding
If an emergency event occurs in the secondary suite, every second counts and a precise location will assist the emergency responders to locate the suite.
Current and future utility hookups
Utility hookups require the exact suite address where the utilities will be hooked up and for the utility bill to be sent.
Applications for future business licences
A requirement of a business licence is to have the exact suite address to where the business will be operating. Although there might not be a business operating out of the secondary suite at this time, an address will still be created to enable a business to be licenced at the suite when needed.
Applications for future short-term rentals
Although the secondary suite might not be used as a short-term rental at this time, a new address will still be created to enable a suite to be licenced for a short-term rental when needed. The licence requires the exact suite address and not the main dwelling address.
Canada post and other mail delivery services
Although not a City of Calgary requirement, having a separate address for the secondary suite will assist in the delivery of mail to the correct dwelling unit.
Planning Services Centre
We're currently experiencing higher than seasonal application volumes, we apologize for delays. To check the status of your permit, go to vista.calgary.ca and enter in your Job Access Code (JAC) number
Hours:
Monday - Friday
8 a.m. - 4:15p.m. (MT)

Live chat:
calgary.ca/livechat
Call:
403-268-5311
Drop-off:
3rd floor, Municipal building
800 Macleod Trail SE
Legal and safe: suite registry
Check the Secondary Suite Registry to find or verify a legal suite in Calgary.
Registry suites include all necessary permits and have been inspected to meet Alberta's Safety Code requirements. The registry is continually updated as we approve suites.
If an operating suite does not appear on the registry, you can contact Customer support to submit a complaint.