Dinosaurs in the Archives
The City of Calgary Archives has created an online activity for students that provides them with the experience of researching archival materials.  Students will review correspondence, reports, photographs, newspaper articles and other unique records that can be found at the City of Calgary Archives to learn more about the dinosaurs at the Calgary Zoo.
This activity contains a question sheet along with 16 documents that are tied to the first 14 questions.  The last question invites the students to reflect on their experience. 
Don't worry teachers, we have provided an answer key to help you out.
Class opening presentation
---
To get you started, we have created a brief presentation to set the stage for your class.  It introduces the activity and lets your students know what to expect. 
Now that we have set the stage, the documents for this activity are located below.  You can choose to have your students work online or print out copies of the records that appear below.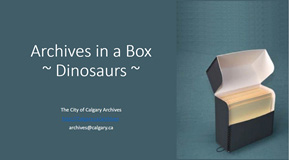 We hope that you have enjoyed this small sampling of records available at the City of Calgary Archives.  If you have more questions on this topic or would like to explore something new, the City of Calgary Archives is open to the public and an Archivist is available to assist you in locating information related to your research. 
Please email the Archives with your questions and reference an archivist will be happy to assist you.  The Archives also has several exhibits and other information available on our website:  https://www.calgary.ca/archives.