Project update: September 2023
Construction information session: October 4, 2023

The Sunnyside Flood Barrier project team will be hosting a drop-in public information session to share updates and details on upcoming flood barrier construction.
When: Wednesday, October 4
Drop-in between 7 - 9 p.m.
Where: Sunnyside School (211 7 St N.W.)
Drop-in to learn more about the flood barrier design and what to expect during construction. Everyone is welcome to attend - no registration required.
Pre-construction work
The City has onboarded PCL Construction Management Inc. (PCL) as the construction manager for the Sunnyside Flood Barrier project and public realm improvements.
Through summer and fall 2023, The City will be completing pre-construction work along the Memorial Parkway area to prepare for main construction of the Sunnyside Flood Barrier in 2024 & 2025. Work will include:
Site work, including drilling to confirm utility locations and rock and soil characteristics
Wildlife scans
Tree removals
Access for drivers and pedestrians along the Memorial Parkway area will be maintained, however temporary closures and detours may be in place. Expected impacts include:
Temporary staggered closures in the right-hand eastbound lane of Memorial Drive
Local access only to 5 Street and 8 Street N.W from Memorial Drive
Staggered closures and detours along the pedestrian and bicycle pathsLarge equipment such drilling rigs, vacuum trucks and pickup trucks will be on site.
Temporary fencing will be placed around work areas and detours will be set up for pathway users. Please follow all signage, including speed reductions.
Please refer to the work location map for more details.
Every effort will be made to limit impacts. Not all noise, dust or vibration will be able to be mitigated and we apologize in advance for any inconvenience.
We know that building a permanent flood barrier is vital to help protect people, homes, and businesses in Sunnyside/Hillhurst from river flooding. We're committed to delivering a 1:100 level flood barrier.  This will help us manage flood water and avoid the type of damage we saw in 2013, while providing the building blocks for future climate resiliency. Additional future protection may also be offered through the completion of a new Bow River reservoir.
At the same time, the barrier's location along an iconic stretch of Calgary is an important consideration. Memorial Drive is one of Calgary's most cherished corridors and must be protected and, where possible, enhanced. When designing and constructing the flood barrier, we have a chance to build upon improvements to this area that have happened over the last 10 years. We will continue to improve the entire public space surrounding Memorial Drive from 14 Street to Centre Street, while adding critical flood protection. 
About the project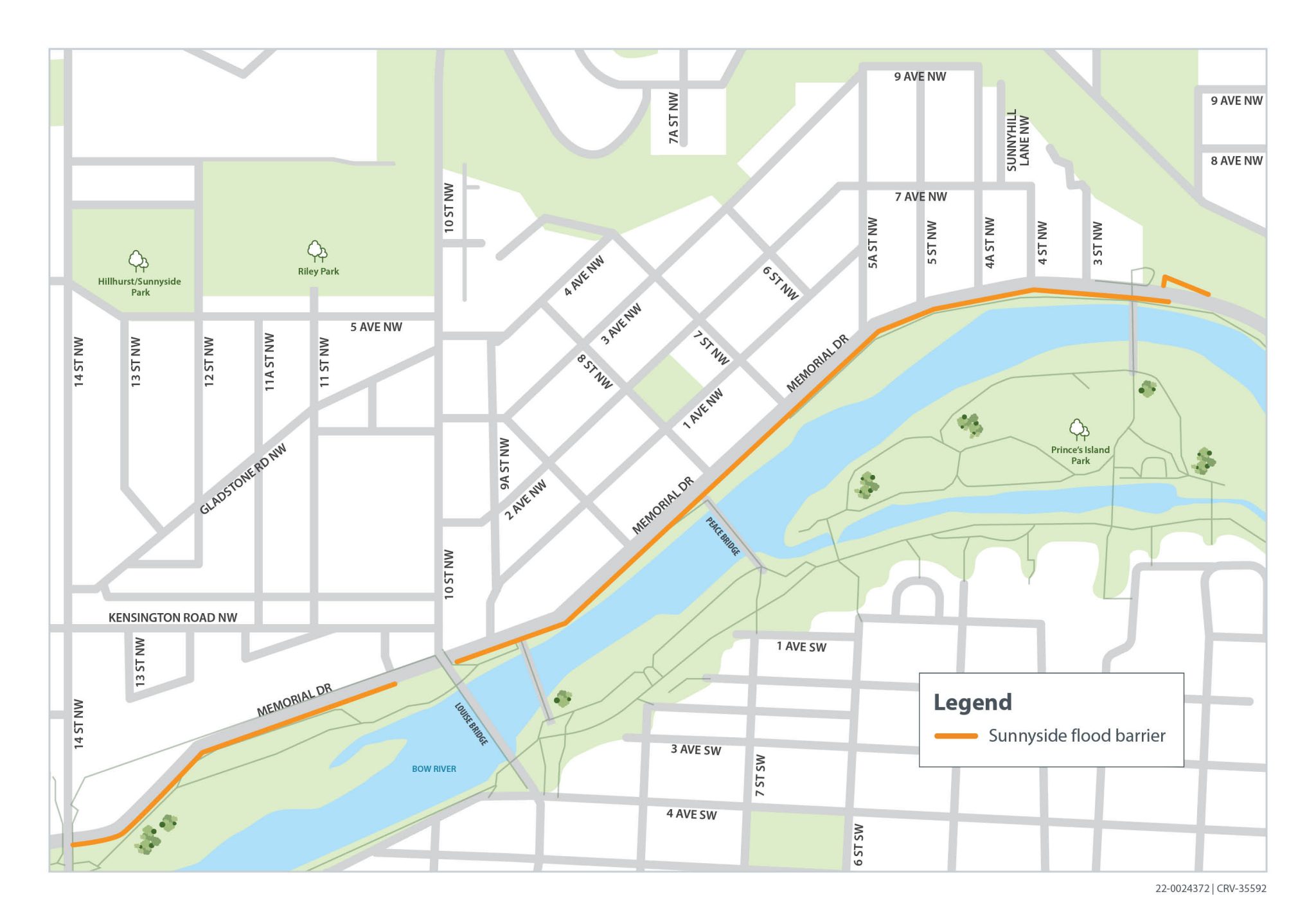 What to expect
The Sunnyside Flood Barrier project encompasses many different elements. To provide greater flexibility, the project team decided to use a construction management approach to bring a contractor onto our team. There are many benefits to this model that will work well for the Sunnyside Flood Barrier project. For example,  
Completing the design with contractor input can help to identify areas that may benefit from an alternate design or construction method.  This could save time, money or help reduce impacts to the public.
Construction cost estimates are developed alongside design, which gives the most accurate cost information.
Construction on certain portions of the barrier can get started before the design is entirely complete in others, reducing the time until flood protection is in place for the community.
We expect that the first phase of construction will focus on enabling work (early work that has to be completed before barrier construction can start). As we work through the details with our design team and construction manager, we will share information on what enabling work will be taking place, the schedule for the work and any construction impacts the public could expect to see. During construction, we are committed to support and provide ways to move to and through the local Sunnyside/Kensington and Riley Communities that emphasize safe, accessible, and efficient movement.  
Tree inventory and Removal
In advance of the enabling works and main construction, our team has taken inventory, surveyed and completed heath assessments of each tree on site. We also plan to move beyond our project site and have expanded boundaries to plant additional trees within nearby neighborhoods and along Memorial Drive. We've also made modifications to the original design of the flood barrier to minimize tree removals.
We've secured over 150 cloned poplar trees to plant as part of our flood barrier work. The work ahead will provide locations, inventory, education and a continued monitoring program to ensure their success in the decades to come. 
To protect Sunnyside from future flooding, the Flood Mitigation Measures Assessment​ (FMMA) report, approved by Council in spring of 2017, recommended that a combination of mitigation solutions that work together to create a flexible and adaptable flood risk management program. Each piece of the strategy provides great benefits independently, but together, they ensure the most effective flood protection strategy.
Below is a summary of this multi-measure approach to building flood resiliency that includes the construction of a new upstream reservoir, as well as changes to the TransAlta's Ghost Reservoir and the construction of community-level flood barriers.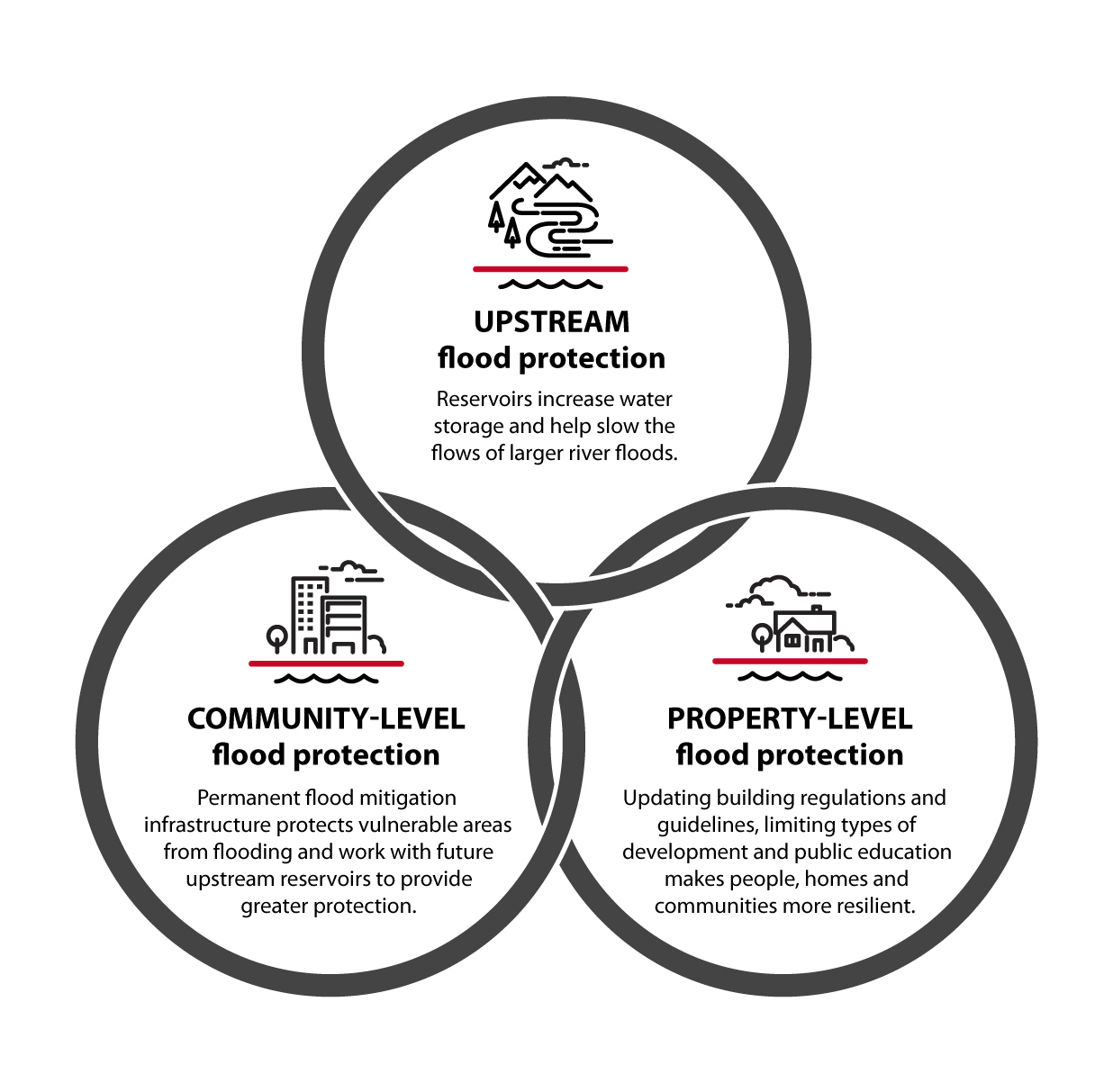 After working with the community and completing a Triple Bottom Line evaluation to explore different options for a flood barrier in Sunnyside, Council approved the 1 in 100-year flood barrier height that will help protect people, homes and businesses in Sunnyside/Hillhurst from river flooding.
Benefits of the 1 in 100-year flood level barrier height
Reduces the 2013-level flood risk, which will be further reduced by current and future upstream reservoirs on the Bow River.
Less disruptive to the community look and feel
Increases the ability to protect vulnerable populations
Meets the provincial and federal flood standard (1 in 100-year)
Provides the building blocks for future climate resiliency
Due in part to the geography as well as an outdated drainage system, Sunnyside is more prone to flooding and this is something that The City is working to fix. In addition to the flood barrier, several projects have been completed or are currently underway to reduce flooding that happens in the community.
Visit Calgary.ca/sunnysidecdi for a list of projects and up to date information.
The location of the flood wall is not yet finalized; the location will be refined as the design progresses. The general alignment of the flood barrier has been determined. We are currently in the detailed design stage, which takes a closer look at the constraints and refines the design  such as the exact location and type of flood barrier over the 1.9 km length.
The 1 in 100-year option is the recommended barrier height for Sunnyside because it's reflective of the best balance between social, environmental and economic considerations. It's an investment that enhances the safety of residents and our ability to protect those most vulnerable, while having a lesser impact to the community look and feel. The 1 in 100-year option meets the federal and provincial flood protection standards. When constructed, it will immediately reduce Sunnyside's risk from a 2013-level flood. This option will be further enhanced by current and future upstream reservoirs on the Bow River, allowing it to manage even larger floods.
Feedback garnered through public engagement will be used to inform elements such as public amenities and open space adjacent to the flood barrier and will not inform any design decisions for the flood barrier. We do not anticipate that engagement for the Memorial Parkway project will delay the overall construction timelines for the Sunnyside Flood Barrier project.
As we advanced the flood barrier design, we recognized the significant impact this project would have on the area. During this time, it also uncovered some opportunities to integrate the flood barrier into other work that was happening in this area and a desire to capitalize on this moment to protect and enhance the area as much as possible while adding the flood protection. 
To help increase flood resiliency and create spaces that enhance the connection with the river, natural environment and commemorate our heritage, we're combining this work through an integrated program. We recognized that by taking a more integrated approach we could achieve the best outcome for the area.
As part of The City's emergency response plan, we are ready to respond, if needed, in areas that are still vulnerable to river flooding. We stockpile riverbank protection and temporary barrier materials and each spring our City teams review their plans, conduct site visits and train crews.  
In addition, every spring, infrastructure such as water main valves, stormwater outfall gates, lift stations and pump are prepared, tested or positioned for flood season to reduce potential damages during a flood.
PCL Construction Management Inc. (PCL) has been selected as the construction manager for delivery of the Sunnyside Flood Barrier project and public realm improvements.
We are using a construction management approach to allow the project team greater design flexibility and project control to address schedule and community impacts.
We know that there are several historical and socially significant sections of the Sunnyside Flood Barrier alignment, so using a construction management approach allows more time to work through the details of those while getting started on the more straightforward areas.
Stay connected

Sign up for our email updates to receive the most up-to-date information about Memorial Parkway Program Improvement projects.
Have questions or concerns about project construction? 
Videos
Related documents and links
Related projects
​​​​​​​​ ​​​​​​