​
Residential property tax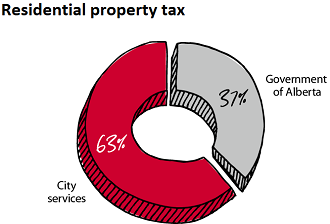 Do you want to know how your residential property tax dollars are being spent? Funds collected through property tax are split between the Alberta Government and The City of Calgary.
You can find your annual property tax on your property bill (mailed out at the end of May) shown as the "Current Taxes" line.​​​​ You can also get an estimate for your property taxes using our property tax calculator​.
Enter your residential property taxes below and get a breakdown for how they are used.
About this tool
Breakdown amounts are based on the percentage of overall municipal spending for services in the 2019-2022 budget.
The tax breakdown is not an official tax bill. Calculations are approximate.​​​ For a copy of your property tax bill, see Property tax: document request.