2023-2026 Service Plans and Budgets
About our service plans and budgets
Our plans and budgets were created to care for our community, today and in the future.
In the next four years, people will feel safer on public transit.
We'll have made a meaningful impact on removing systemic racism.
We'll have increased supports for local businesses.
We're reducing greenhouse gas emissions from City operations
View our four-year service plan and budget, outlining how we will make Calgary an even better place to live, work, play and grow up, from 2023 to 2026 and beyond.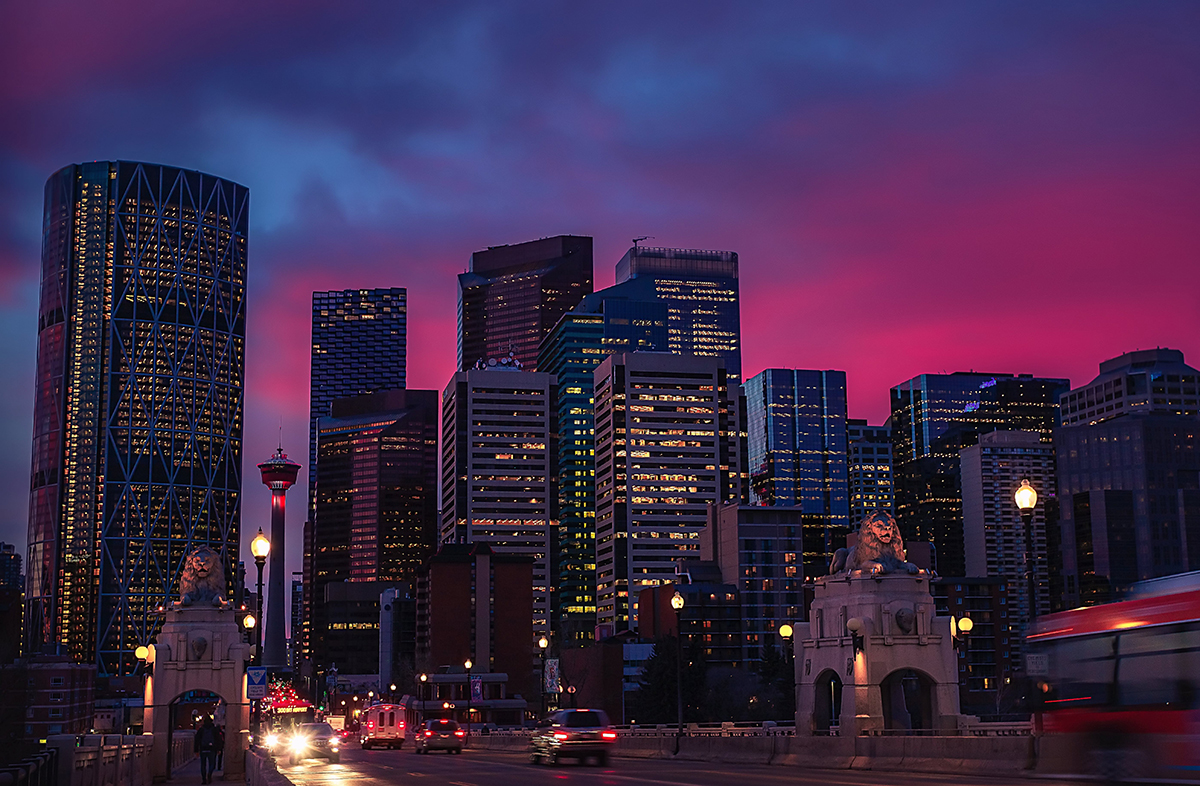 Resilient Calgary: Council's Strategic Direction 2023-2026
Council's Strategic Direction provides the foundation, guiding principles and focus areas needed for Administration to create service plans and budgets for the next four years so that we can collectively make Calgary a great place to make a living and a great place to make a life. 
More on Council's Strategic Direction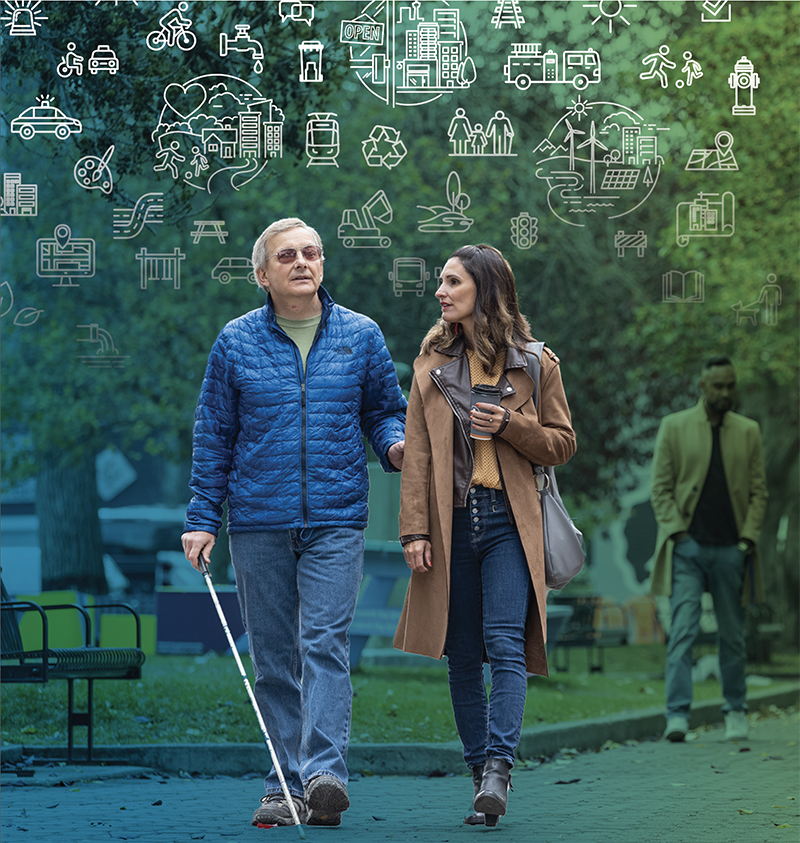 Our budgets were created to care for our community, striking a balance between the services you use every day and costs. We have ambitious goals to make Calgary an even better place to live and to make Calgary even more attractive for people, businesses and visitors. Just as importantly, we will work to maintain affordability by keeping ongoing City expenses as low as possible.   
While all City services budgets will be maintained over the next four years, we have worked through a thorough process to make strategic decisions on where investments should be made to make the biggest impact aligned with Council's Strategic Direction. As a result, some services will receive higher levels of investment than others.
The City develops four-year (2023-2026) operating plans and budgets, and five-year (2023-2027+) capital plans and budgets.
2023-2026 budget breakdown
We are committed to making strategic service investments to deliver value for our communities while ensuring that the service needs of Calgarians in the future will be met.
Downtown revitalization
Remove regulatory barriers
Rejuvenate downtown real estate
Improve the quality of downtown public spaces
Address safety and social disorder issues downtown
Social equity
Increase equity, engagement and diversity
Advance our journey toward Truth and Reconciliation
Increase access to safe and affordable homes
Support those impacted by complex social issues
Land use and local area planning
Unify planning, transportation and land use vision (Calgary Plan)
Develop modern local area plans that are crafted with community input and visualize, enable and support future growth
Link the growth of communities to key amenities and infrastructure
Establish a new land use bylaw
Transit
Strategic investments in public transit service
Ensure that the service critical infrastructure is available
Modernize Calgary Transit's fleet
Build Phase 1 of the Green Line
Improve frequency and hours of service
Enhance public safety
Hosting and hospitality
Facilitate the production and delivery of festivals and events
Deliver world class experiences, venues, and infrastructure
Engage Calgary businesses and the hospitality industry
Position targeted areas as key destinations
Promote Calgary as a global destination of choice
Global positioning and reputation
Protect The City's reputation.
Expand the Living Labs
Support Calgarians in improving energy efficiency
Support technology innovation and the development of a low carbon economy
Launch a zero-emissions innovation centre
Leverage the arts sector
Deliver a community climate education and outreach campaign
Modernizing government
Provide excellent services to Calgarians
Modernize governance practices and policies
Engage and advocate
Review 311 service request processes
Enhance customer service for businesses
Elevate service improvement initiatives
Support modernization of service delivery
The operating budget is approved by Council and includes revenues, recoveries and spending related to ongoing annual operations. 
The City's total net operating budget is zero. This means The City does not budget, we only budget to collect enough property taxes as we need to deliver our services - no more, no less. This is because we ensure that you have the services you want and need within our budgeted spending limits. 
Revenues and recoveries may include:
Property tax (residential and non-residential)
Sales of goods and services
Licences, permits, fines
Franchise fees and dividends
Business tax
Grants and subsidies
Operating budget revenues per year
Operating budget revenues per year
Expenditures may include:
Salaries, wages, benefits
Day to day programs, maintenance and services
Administration costs (e.g. insurance)
Fuel
Utilities
Capital financing costs
Operating budget expenditures per year
Operating budget expenditures per year
Do you know 65% of your property tax is for your municipal services and 35% goes to the provincial government?
Get an estimate and breakdown of our property tax bill as well as learn how we invest your property tax dollars to deliver the municipal services Calgarians value and use every day.
See your tax breakdown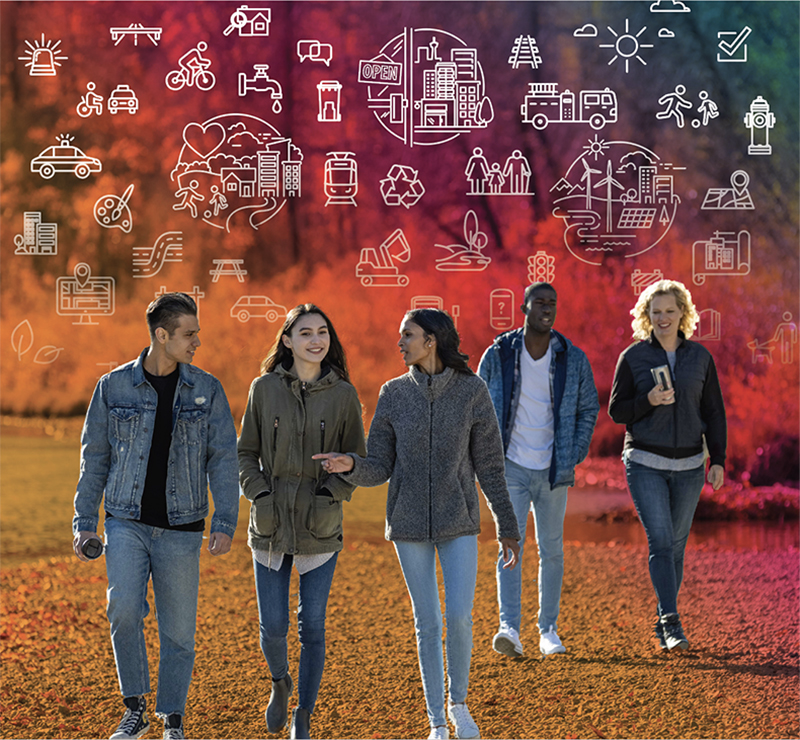 Capital planning and investment play a pivotal role in creating inclusive, accessible, and connected communities and dynamic economies, contributing to a resilient city.
The City's capital budget pays for assets that provide the services Calgarians have come to rely on:
Maintenance of current infrastructure.
Upgrades to existing community infrastructure.
New infrastructure to provide services to areas that are underserved (e.g. Green Line).
New infrastructure for growing areas of the city.
The City is expecting to invest an estimated $4.4 billion on new capital investments over the next four years to continue to build a new city. This includes:
An affordable housing project that will see 200 safe, stable, and affordable homes for Calgary population that is unable to afford a home.
New fire stations in South Shepard, Haskayne, Belmont and Walden.
New libraries in Walden, Belmont and Skyview Ranch.
Electrification of select city vehicles and buses.
Construction of new roadway (144 Avenue N.W.) from Symons Valley Road to Panorama Road, including a bridge over West Nose Creek.
Wireless infrastructure to grow Calgary as a smart city and 5G hub.
Drainage facilities for flooding resiliency and improving stormwater quality.
Capacity expansions for treating wastewater.
Investment to continue to provide safe drinking water to people living in Calgary.
Capital projects in progress include:
BMO Centre expansion project.

Stephen Ave, 8 St. SW streetscape, Olympic Plaza, 1 St. SE streetscape and underpass.
These investments will continue to provide economic, social and environmental benefits to Calgarians now and into the future.

While The City remains in a fortunate capital funding situation compared to many other municipalities, and significant investment will be made in the community, many infrastructure opportunities remain unfunded. The City's capital budget relies heavily on grant funding compared to our operating budget, which has more funding sources. When grant funding is cut for capital projects, we need to either reduce our capital budget or switch funding sources to make up the shortfall. When this occurs we conduct a rebalancing of the capital portfolio.
We are actively pursuing additional funding through grants, partnerships, and other means to fund additional high priority capital investments. This work is ongoing and will continue through the next budget cycle.
Service plans and budgets documents
---